A route from Sydney to Canberra is commonly touted as the most viable high speed rail corridor in Australia due to its short distance and the density of regional population centres on the way. What isn't often proposed is to upgrade and re-use the route we already have. The single-track railway diverges from the Sydney-Melbourne mainline a few kilometres south of Goulburn, and continues south through the Mulwaree Valley and then the Carwoola Plains before turning west through the Molonglo Gorge to access Canberra's eastern suburbs.
Most previous high-speed rail proposals have ignored the existing line, instead favouring a new alignment generally following the Hume and Federal Highways and entering Canberra from the north, or possibly the northeast via Canberra Airport. Presumably the assumption was that a high-speed alignment through the difficult terrain east of Canberra would be impractical.
However, Hot Rails aims to follow the existing line, which exits Canberra via the Molonglo Gorge near Queanbeyan. A lucky break of geography means that a high-speed alignment can transit the range using only a single tunnel, several mid-size bridges (~100m span) and a couple of fairly deep cuttings. Once over the range, there is an easy run into and out of Bungendore, some difficult terrain between Mount Fairy and Tarago, and then a long, straight run along the Mulwaree Flats at Inveralochy. A new bridge over the Mulwaree River at Goulburn allows high-speed transit of the important regional centre.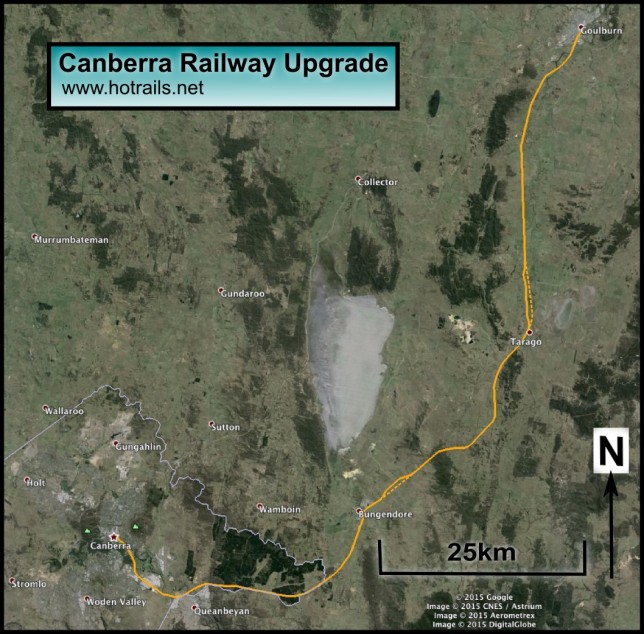 | Component | Cost ($m) | Percentage |
| --- | --- | --- |
| Tunnels | 130.2 | 12.4% |
| Bridges | 277.5 | 26.4% |
| Earthworks | 111.0 | 10.5% |
| Track | 245.0 | 23.3% |
| S&C | 72.6 | 6.9% |
| Civil works | 91.4 | 8.7% |
| Stations | 121.9 | 11.6% |
| Land | 3.6 | 0.3% |
| TOTAL | 1053.3 | 100.0% |
The total length of the upgraded Canberra Line is 104.4km, with construction costs totalling $1.053 billion ($10.1m/km). This is the cost to duplicate the existing line and build new deviations to enable a minimum transit speed of 200km/h. Most sections would allow 250km/h if rollingstock were capable, and over half would allow 300km/h. Modest future deviations at Bungendore and Lake Bathurst could turn this into a true "very high speed" alignment in the future, should the demand for it arise.
Compare the Hot Rails cost to the government study's estimate of $2.8 billion for a much shorter spur line; measuring that alignment in Google Earth suggests it is no more than 55km in length, giving an average capital cost of $50.9m/km – over five times the Hot Rails estimate! And the Hot Rails option serves four stations in addition to Canberra. The government option doesn't serve a single one, not even the major regional centre of Goulburn.
Sector Detail
Click on a location below to see a detailed analysis of that part of the route.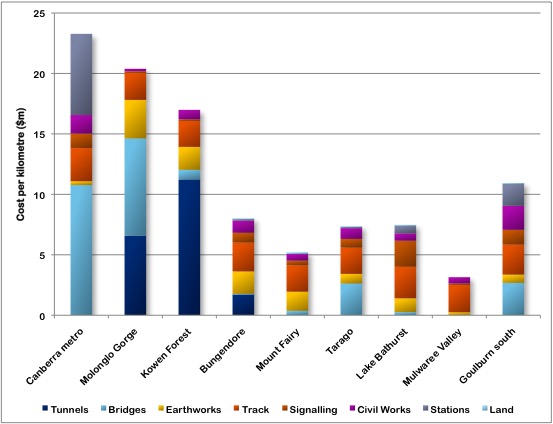 Click here to download the entire analysis in Excel format: Canberra-Line.xlsx